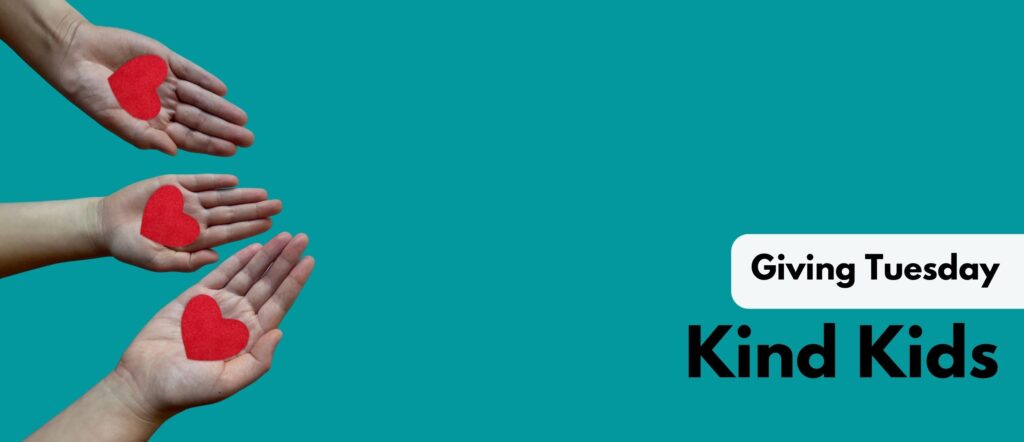 Giving Tuesday is a global generosity movement created in 2012 that happens the Tuesday after Thanksgiving. It encourages people and organizations to transform their communities and the world. It began as a day to do good and has grown into a movement that makes a difference around the world. In 2022 we will be participating for the fist time.
Our approach to Giving Tuesday comes in two parts. First we are challenging our students to be mindful of ways they can be kind to those around them for two weeks. Kindness is, of course, good for the person we are being kind to, but it is also good for us. The Mayo Clinic says, "Kindness has been shown to increase self-esteem, empathy and compassion, and improve mood. It can decrease blood pressure and cortisol, a stress hormone, which directly impacts stress levels." During those two weeks students will keep track of their kind deeds. The class with the most kind deeds will receive a special prize along with the top three individuals across the whole school.
Then, we will be challenging our congregation, alumni, and friends of St. Peter to come together, on Giving Tuesday, to not only be kind themselves, but to also match the kind deeds of our students with dollars. All donations will support our ongoing updates to our building.
Our students also had the opportunity to share some of their kind deeds on our kindness bulletin board. We want them to be sprinkling kindness all over.
Our students did a variety of kind things.
They….
Made lunch for a sibling
Took out the trash for a grandparent
Drew a picture for an uncle
Cleaned the snow off of their grandparent's car
Tied a shoe for a friend
Held the door for others
Helped rake leaves
Cleaned up toys without being asked
And so much more.
Our students performed 960 kind deeds
in two weeks!
The Second Grade class won our classroom competition with 121 kind deeds.
Our top Kindness Superstar was an 8th grader who performed 100 kind deeds!
Kindness is always a good idea!
We hope you enjoy this video of some of our students sharing about some of the kind deeds they did for others.
We hope you'll join in and support our Kind Kids by making a donation to our Giving Tuesday campaign in support of kindness.
All donations will go to our ongoing facility updates to keep St. Peter a great place to be kind.